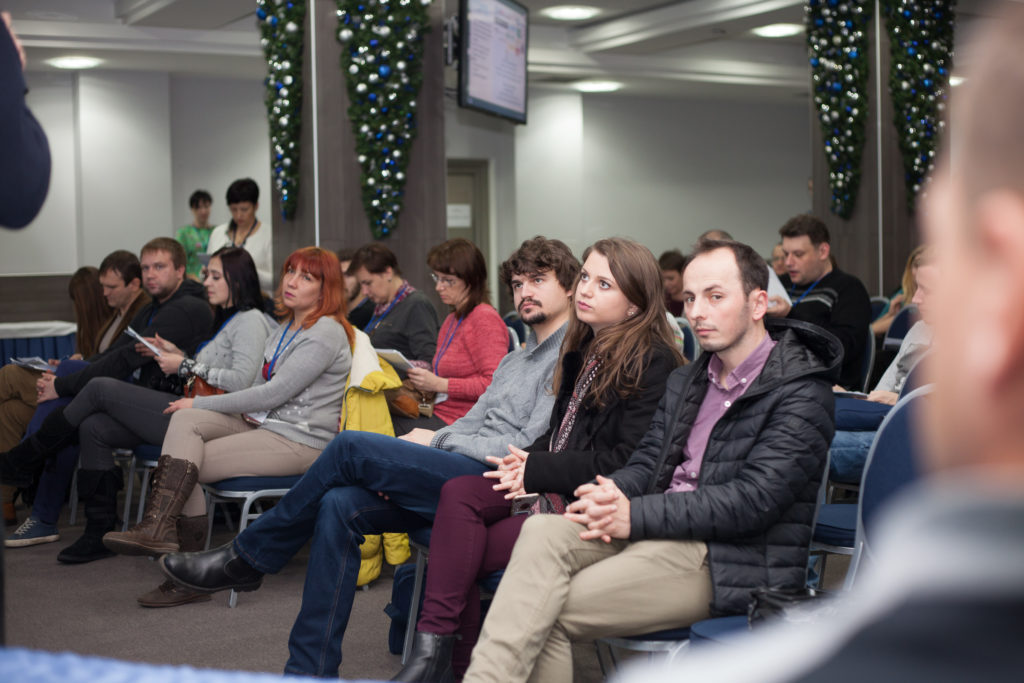 Photo: participants of the VIII Conference of investigative journalists, 2016
The key event of the year in investigative journalism, the conference will take place on Dec. 8-9 and will gather more than 150 Ukrainian and foreign journalists, editors and prominent experts in the field of investigations, data processing, safety of journalists, copyright. Traditionally Regional Press Development Institute (RPDI) organizes the event with the support of international donors.
The speakers will deliver their presentations in three parallel tracks – by the participants' choice, except for the plenary sessions which all participants are invited to attend.
This year's conference topics cover both global aspects of investigative journalism: journalism ethics and professional standards, data processing, use of drones, digital security, and Ukrainian realities: effectiveness of investigative journalism, safety of journalists, working in the occupied territories.
A new online training course in investigative journalism is to be presented at the Conference.
See the program for more details.
Program
of the IX annual National conference of investigative journalists of Ukraine
December 8-9, 2017
Day 1, Dec. 8
9.30 – 10.30 – Conference registration, welcome coffee
10.30 – 11.00 – Welcome address by organizers and donors
Speakers: Olga Trufanova (RPDI), Eka Tkeshelashvili  (EUACI), Oleg Khomenok (GIJN, Internews Network), Henrik Kaufholz (SCOOP, Politiken Fonden)
11.00 – 11.30 – Investigative journalism in the age of open data, information leaks and whistle-blowers: opportunities and challenges
Кeynote speaker – Rana Sabbagh (ARIJ)
11.30 – 11.45 – coffee break
11.45 – 13.00 – Plenary session. Why is it dangerous to be an investigative journalist in Ukraine: statistics, analytics, judicial practice and expert opinions.
Speakers: Sergiy Tomilenko (chairman of NUJU), Viktoria Siumar (chairperson of the Verkhovna Rada committee on freedom of speech), Vira Krat (media lawyer), Mykhaylo Tkach ("Skhemy", Radio Liberty), Maksym Opanasenko (Slidstvo.info), Anatoliy Ostapenko (Hromadske TV, Zaporizhzhya), Alisa Yurchenko (Nashi Groshi, Bihus.info),
Moderator: Lyudmyla Pankratova
13.00 – 14.00 – Lunch
14.00 – 15.30 – Parallel sessions
Hall «Evropeiskyi»
Hall «Stolychnyi»
Hall «Natsionalnyi»
First Session
Journalism ethics and professional standards in investigative reporting: international experience
Speaker: Bruce Shapiro (director of the Dart Center for Journalism and Trauma)
Moderator: Oleg Khomenok
Second session
What has changed over the last year: Ukrainian tools to process open data
Speaker: Sergi Milman, Antonina Ryakhovska (Youcontrol); Daryna Danylenko (OpenDataBot), Andriy Kravchenko (product manager, Liga:Zakon)
Moderator: Oleksandr Voloshyn
Hands-on Zone
Coding for investigative journalists.
Part one
Additional registration is required to participate.
Trainer: Andriy Gazin (textura.in.ua)
15.30 – 16.00 – Coffee break
16.00 – 17.30 – Parallel sessions
Hall «Evropeiskyi»
Hall «Stolychnyi»
Hall «Natsionalnyi»
Third Session
Results of the monitoring of investigative programs by Detector Media, with the participation of the representatives of those programs.
Speakers: Natalia Lihachova, Fedir Sydoruk, Nadiia Babynska-Virna.
Moderator: Valentyna Samar
Fourth Session
Donor support of investigative projects: achievements, mistakes and priorities.
Participants: Internews Network, EU anti-corruption initiative, Politiken-Fonden, Internews Ukraine, OCCRP, Media Development Fund, IREX, n-vestigate
Moderator: Kateryna Laba
Hands-on Zone
Coding for investigative journalists.
Part 2.
Pre-registration is required for this session.
Trainer: Andriy Gazin (data analysis & visualization expert textura.in.ua)

17.30 – 17.45 – Coffee break
17.45 – 19.00 – Plenary session. Results and futility of state anti-corruption institutions: reasons, problems, possibilities of cooperation with investigative journalists.
Speakers: Daryna Manzhura (head of the department of external communications of the National anti-corruption bureau of Ukraine), Oleg Lozovy (chief detective of the anti-corruption unit of the Department of economic security at the National Police of Ukraine), Yehor Soboliev (Parliamentary committee on preventing and fighting corruption), Inese Voika (anti-corruption advisor, UNDP), Skirmantas Malinauskas (anti-corruption advisor to Lithuanian Prime Minister).
Moderator: Katya Gorchinskaya
19.15 – Dinner buffet
Day 2, Dec 9.
10.00 – 11.30 – Parallel sessions
Hall «Evropeiskyi»
Hall «Stolychnyi»
Hall «Natsionalnyi»
Fifth session
Working with open data in the countries of the Middle East, North Africa and the USA
Speakers: Carole Kerbage (ARIJ), Andrew Lehren (NBC News)
Moderator: Dmytro Chaplinsky
Sixth Session
Investigative reporting in the occupied territories
Speakers: Oleksandr Humenyuk (Slidstvo.info), Valentyna Samar (Crimean center for investigative journalism), Andriy Klymenko (BlackSeaNews).
Moderator: Dmytro Gnap
Hands-on Zone
Use of drones for investigative journalism

Trainer: Borys Trotsenko ("Skhemy", Radio Liberty)

11.30 – 12.00 – Coffee break
12.00 – 13.30 – Parallel sessions
Hall «Evropeiskyi»
Hall «Stolychnyi»
Hall «Natsionalnyi»
Seventh session
Working with open data in the Czech Republic and Lithuania
Speakers: Pavla Holcova (director of the Center for investigative journalism in Prague), Šarūnas Černiauskas (investigative journalist, Lithuania)
Moderator: Denys Bihus
Eighth session
Round table "Investigative journalism education"
Presentation of the training course «Investigative journalism: fundamentals»
Speakers: Oleg Khomenok, Fedir Sydoruk, Diana Dutsyk (Detector Media), Mykhaylo Koltsov (Kyiv-Mohyla school of journalism), Oleksiy Shalaysky (Nashi Groshi), Denys Bihus (Bihus.info),  Andrew Lehren (NBC News), Viktoria Shevchenko, Head of  multimedia technologies and media design department, the Institute of journalism of Kyiv Taras Shevchenko National University
Moderator: Iryna Negreyeva
Hands-on Zone
Tracking people via social media services and online
Trainer:  Aric Toler (Bellingcat)

13.30 – 14.30 – Lunch
14.30 – 16.00 – Parallel sessions
Hall «Evropeiskyi»
Hall «Stolychnyi»
Hall «Natsionalnyi»
Ninth session
Cross-border investigations: experience of colleagues and case study
Speakers: Pavla Holcova (Center of investigative journalism in Prague); Olena Loginova (OCCRP), Atanas Chobanov (n-vestigate), Vahe Sarukhanyan (n-vestigate)
Moderator: Anna Babinets
Tenth Session
Ukrainian legislation on copyright: problems of piracy in investigative journalism.

Speaker: Lyudmyla Pankratova (RPDI)

 Hands-on Zone
Legal and non-legal consequences of investigations for investigative journalists.
Speakers: Iryna Basenko, media-center "Vlasno"; Denys Bihus, bihus.info; Volodymyr Torbich, "Chetverta Vlada"; Mykhaylo Tkach, "Skhemy", Radio Lyberty; Danylo Mokryk, UA:First/Bihus.info.
Experts: Mykola Kostynyan, digital security expert; Oksana Maksymenyuk, media lawyer, RPDI; Larysa Arkusha, investigative activities expert.
Moderator: Daryna Shevchenko.
16.00 – 16.30 – Coffee break
16.30 – 17.00 – Final remarks. Closing of the IX National conference of investigative journalists of Ukraine.
Speaker: Oleg Khomenok

EUACI is financed by the European Union and co-financed and implemented by DANIDA